The animated movie, Nimona, was released on Netflix on the last day of Pride Month. It quickly made it to Netflix's Global Top 10 with 3.2 million views. This also marks more than seven years after the rights to adapt the original Nimona comic into a movie were acquired by 20th Century Fox Animation. A lot has happened in the world during this period, and the release of an all-ages animated film like Nimona, with obvious LGBTQ+ representation, is something worth celebrating in 2023.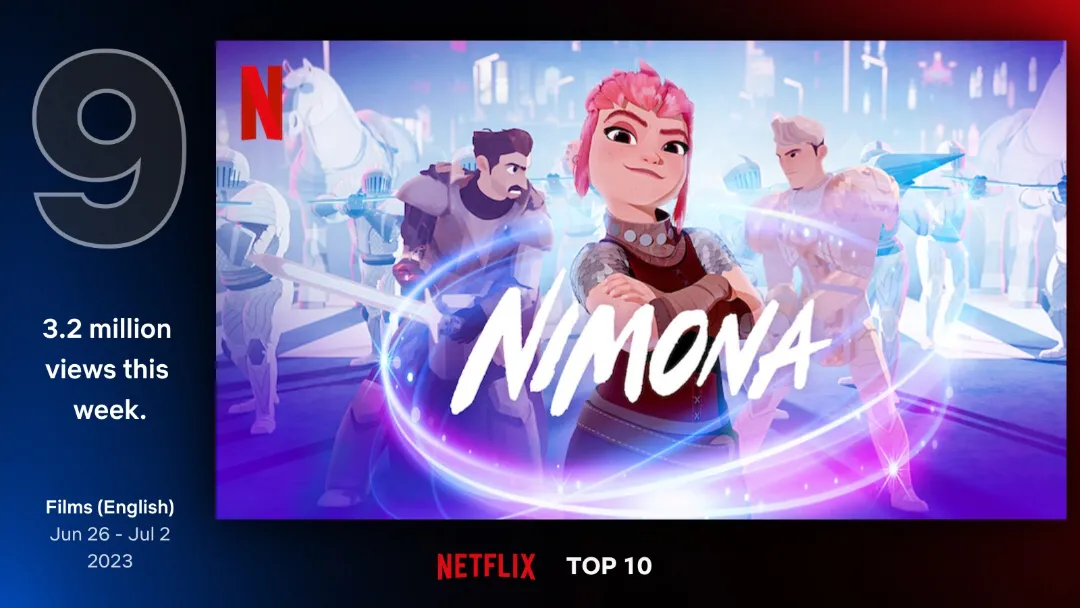 The movie is based on the same-titled graphic novel by ND Stevenson published in 2015. The story is set in a futuristic medieval world where Ballister Boldheart (Riz Ahmed), a knight, is falsely accused of killing the Queen. While on the run, he meets Nimona (Chloë Grace Moretz), a mischievous teen with a taste for mayhem, who also happens to be a shapeshifting creature. While slowly getting accustomed to Nimona's company, Ballister gets closer to unveiling the truth about the kingdom. Also, Nimona's true identity becomes the biggest obstacle of their friendship.
Nimona: A Memorable Character
Although Nimona often dresses as a punk teenage girl and sounds like a female, she is agender. Despite the brief introduction about her encounter with with the kingdom's heroine Gloreth in the film through a retrospective scene, we are still left wondering where Nimona comes from and what kind of creature she is. At the beginning, Nimona is portrayed as a cunning and scheming antagonist who has a notable power of destruction and is always creating trouble. Meanwhile, she uses her shapeshifting ability to fight her way out of intense battles. However, she has a childlike side. She enjoys pulling pranks and is able to maintain a sense of humor while engaging in fierce fights. Of course, she is also a cynic and lives in solitude. "Nimona comes in and kicks you in the face and says, 'Here's who I am.' She knows who she is, and she will let you know through the movie."— these are the words of one of the movie directors, Troy Quane.
Driven y loneliness, Nimona seeks out Ballister, who is isolated and disliked by others like herself. She does everything in her power to help him with the sole aim of becoming his assistant. At this point, it is noteworthy to mention that Ballister has two other identities: a person of an ordinary background who became a knight through his hard work, and a homosexual in a secret love relationship with Knight Ambrosiu Goldenloin (Eugene Lee Yang) who comes from a noble family. The pain of not being understood and their unspoken loneliness forge an incredible emotional connection between Nimona and Ballister and provide them a chance to learn about each other afresh.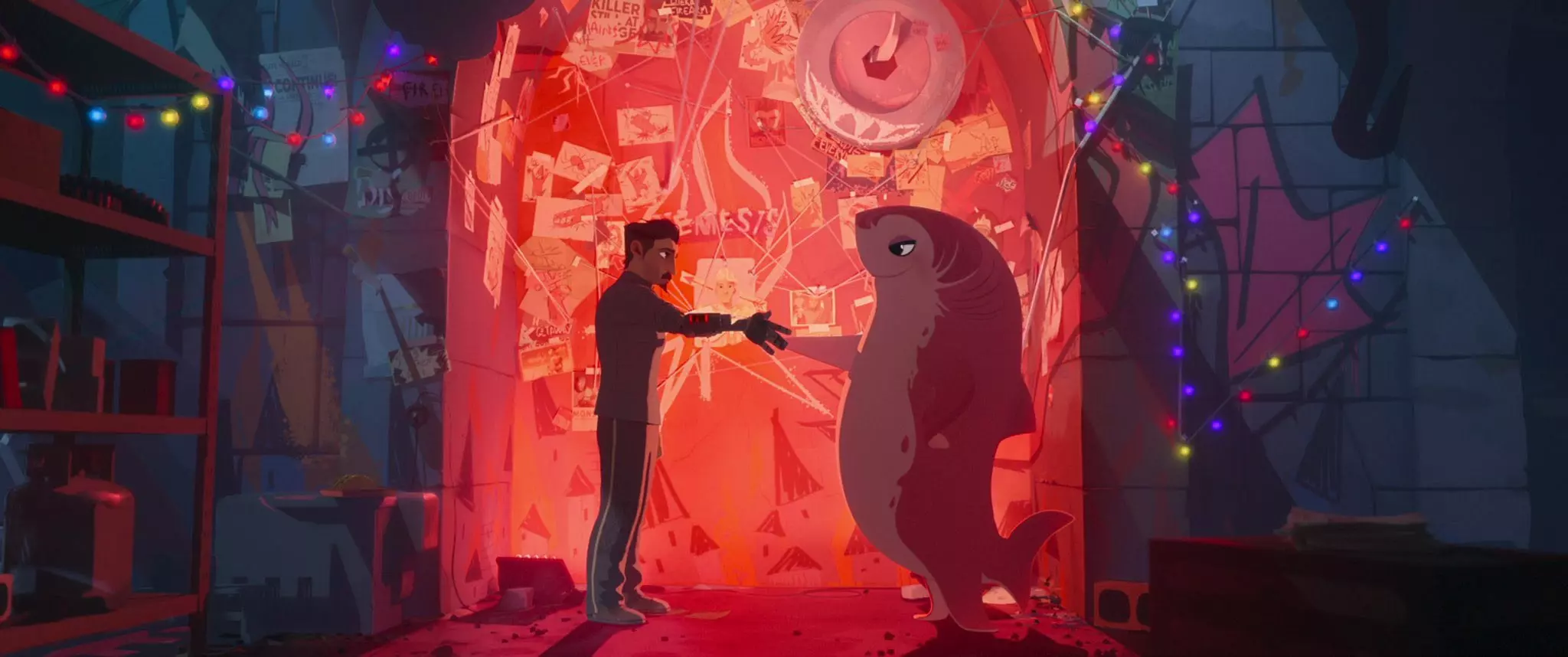 Nimona's clear self-awareness leaves a indelible impression in the audience. Although her queerness is not made explicit in the film, it is difficult to ignore it. After witnessing Nimona's joy while transforming freely into a variety of animals, including rhino, blue whale, gorilla, ostrich, and even otter, we are more inclined to understand rather than label her. Nimona's identity fluidity, engagement in subversion and acts of rebellion empower audience who are struggling with their identities. There is nothing terrifying about being different. Instead, it is something worth us fighting for, and we are not alone in this fight. Just like how Nimona finds companionship in Ballister and eventually wins the hearts of the people, those who tirelessly speak out and take concrete actions against discrimination to put an end to it in real life are receiving increasing support and help. Nimona's character serves as one of the most inspiring queer figures in the history of animated films, and her story provides comfort and hope for queer kids and their friends who are navigating difficult times.
Dystopia and Sincere Tributes
I really appreciate the futuristic medieval setting of the kingdom in Nimona. It conveys the idea that human thoughts do not necessarily progress with technological advancements. In the film, the Director (Frances Conroy) and her organization, The Institute, strictly adhere to traditions that have been passed down for thousands of years. As such, they forbid a commoner from becoming a knight, and even consider Nimona a "monster" that will threaten to destabilise the kingdom's rule.
The film's dystopian future is made apparent with towering white buildings, flying cars, powerful laser weapons, and a strict public surveillance system. However, the people are confined within the kingdom and are forced to only receive information from the authorities. Unfortunately, Nimona falls short of the dystopian world like the one in Ari Folman's The Congress. We are unable to know more about the kingdom, so it is difficult to justify the villain's killing of the Queen and destroying of half of the city to preserve their traditions.
While Nimona's unique and groundbreaking on-screen image is impressive, the film's weak narrative, lack of character development, and awkward relationships between characters are also noticeable. The first meeting between Nimona and Ballister seems too predictable, while the romantic relationships between Ballister and Ambrosiu, as well as Nimona and Gloreth, are not well established. The film presents information in a hasty manner but they only tell us about the established outcomes, and do not involve us in the process. This is undoubtedly the biggest regret about the movie.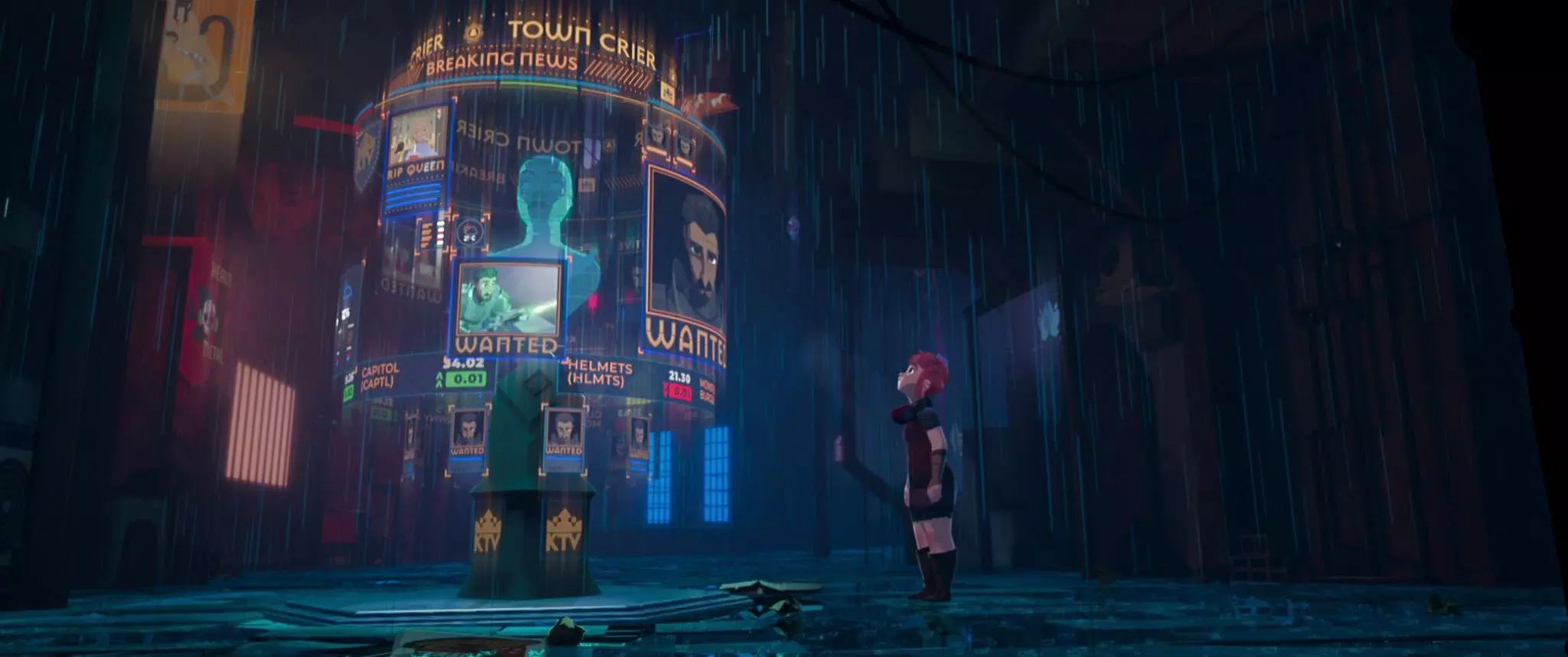 However, Nimona's tumultuous fate sheds light on why the film is not perfect. As mentioned at the start of this article, 20th Century Fox Animation assumed Nimona's film adaptation rights in 2015, with its subsidiary Blue Sky Studios responsible for its production. But, its release date was repeatedly postponed following Disney's acquisition of 20th Century Fox in 2019. In 2021, Disney announced the closure of Blue Sky Studios, and Nimona, which was 70% completed, was immediately halted.
Former employees from Blue Sky Studios revealed in 2022 that Nimona was once boycotted by Disney's leaders due to its LGBT theme and inclusion of a same-sex kiss scene. In April of the same year, Netflix and Annapurna Pictures announced that they had acquired Nimona and DNEG Animation would take over its production. It would be jointly led by directors Nick Bruno and Troy Quane, who had been involved since 2020. Finally, Nimona, which almost became Blue Sky Studios' first LGBT film, was released this year. It is worth mentioning that ND Stevenson, the creator and co-producer of Nimona, publicly shared in 2021 that he identifies himself as transmasculine and bigender following a top surgery. It's heartening to see Nimona and its creator thriving even after facing numerous challenges.
Although Nimona's runtime exceeds 100 minutes, the actual film spans about 84 minutes. Its closing credits last more than 15 minutes, showing the names of all Blue Sky Studios employees who contributed to the film as a tribute to their hard work. I'm touched by how Nimona has overcome the various setbacks and its release is a remarkable example of collective creation. While there remains some regrets over the movie, Nimona boldly and clearly expresses the voices of misunderstood LGBTQ+ communities and individuals. It is exactly the film that is much needed in this era as it bridges all differences and misunderstandings with love and inclusion.