For those well-acquainted with Pixar, the ever-present Easter eggs hidden throughout their films are a familiar delight. Part of the joy of watching Pixar movies lies in scouring every corner of the screen for the small surprises the animators have tucked away. In this article, we're going to unveil the mysteries behind these classic Easter eggs for you!
The Enigmatic Code A113
In numerous Pixar animations such as "Toy Story," "A Bug's Life," "Ratatouille," "Cars," "WALL-E," "Finding Nemo," and "Monsters University," the mysterious characters A113 consistently appear in various inconspicuous places. It is undoubtedly one of the most frequently recurring Easter eggs.
As a studio with a deep appreciation for its roots, the connection between A113 and Pixar lies with some of its veteran creators: John A. Lasseter, Brad Bird, Peter Hans Docter, Andrew Stanton, and others all once attended classes in room A113 at the California Institute of the Arts!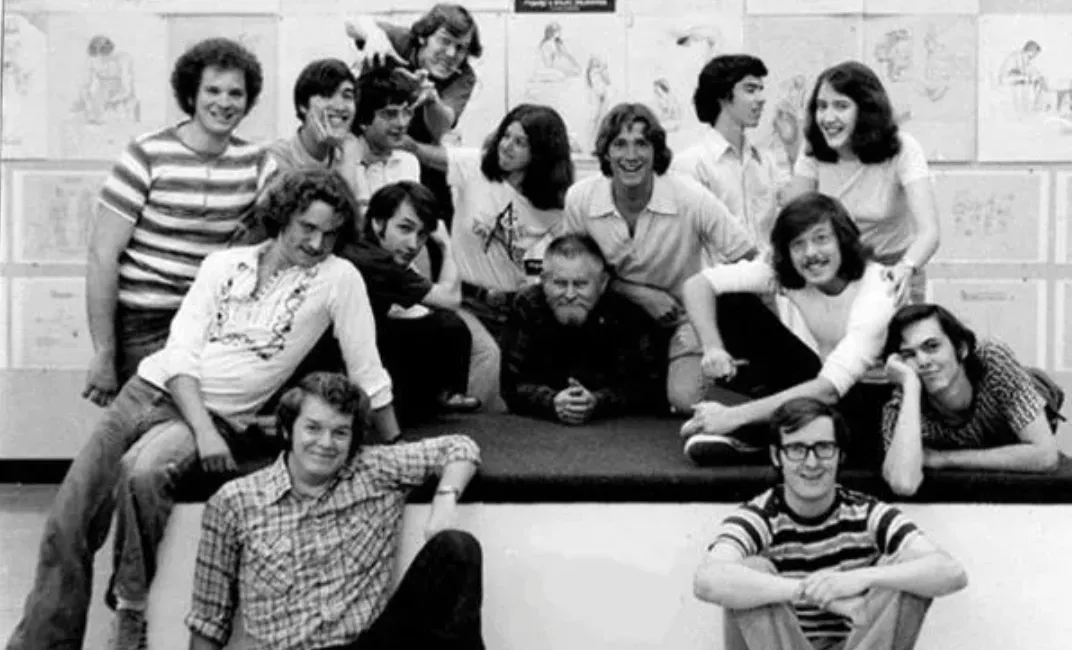 Pixar's Iconic Luxo Ball
In addition to the famous code A113, the Luxo ball is another frequently spotted Easter Egg in Pixar animations. This famous ball originates from the 1986 animated short film "Luxo Jr.," which was Pixar's first animated short after being acquired by Steve Jobs.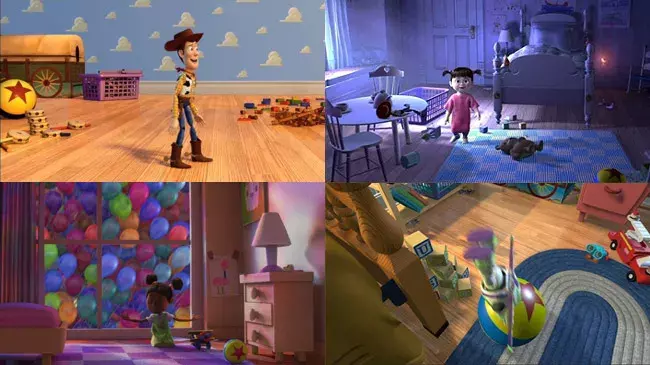 Just as Walt Disney explored and developed new technologies through the "Silly Symphonies" short film series before creating "Snow White," Pixar laid a solid foundation for its feature films with a series of shorts. Today, "Luxo Jr." and this Luxo ball have become iconic symbols of Pixar!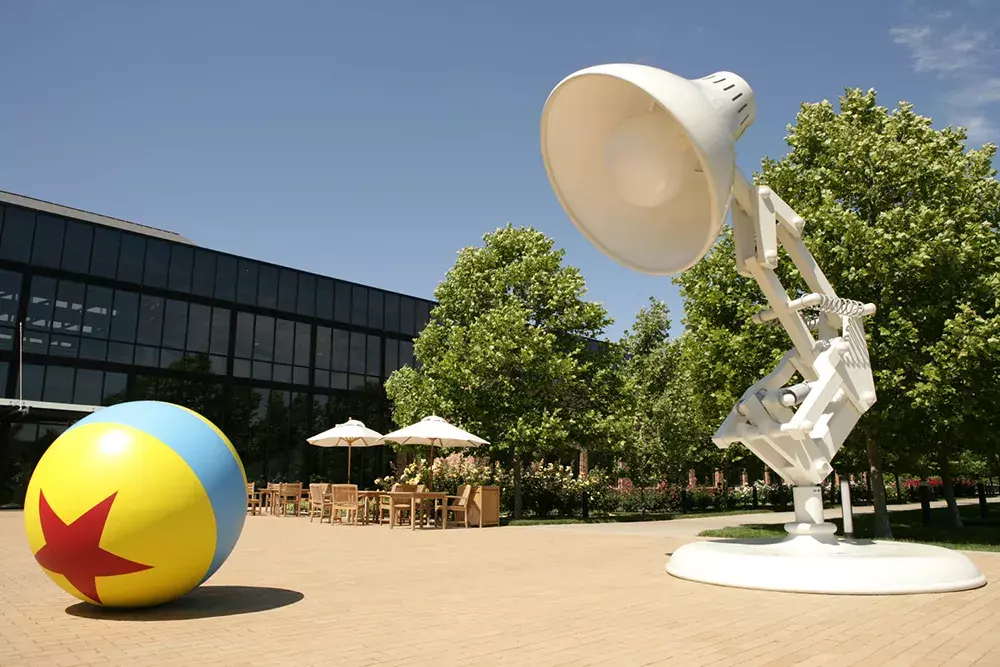 The Pizza Planet Truck
This rusty, manual transmission mystery truck initially appeared in "Toy Story" as the Pizza Planet delivery vehicle, with the license plate number RES1536 in the "Toy Story" trilogy. Subsequently, this truck made appearances in nearly every Pixar animation!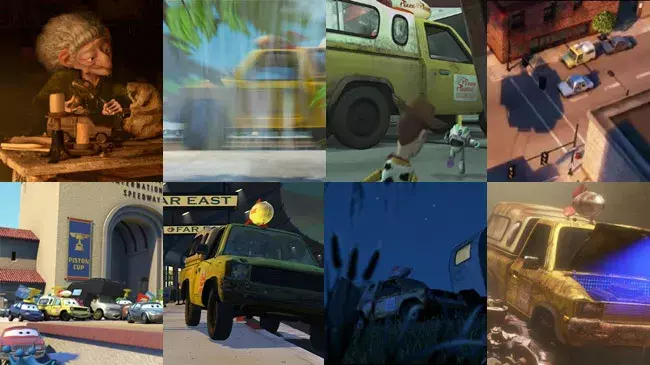 In 2015, a full-scale model of this legendary truck was specially showcased at the D23 Expo, and LEGO even released a model of this truck.
The Mysterious Tin Shed
Besides being remarkably similar, can you believe these two scenes are from different films? However, these two images are from Pixar movies "A Bug's Life" and "Monsters, Inc." respectively. In the bottom left corner, you can also spot the famous Pizza Planet Truck.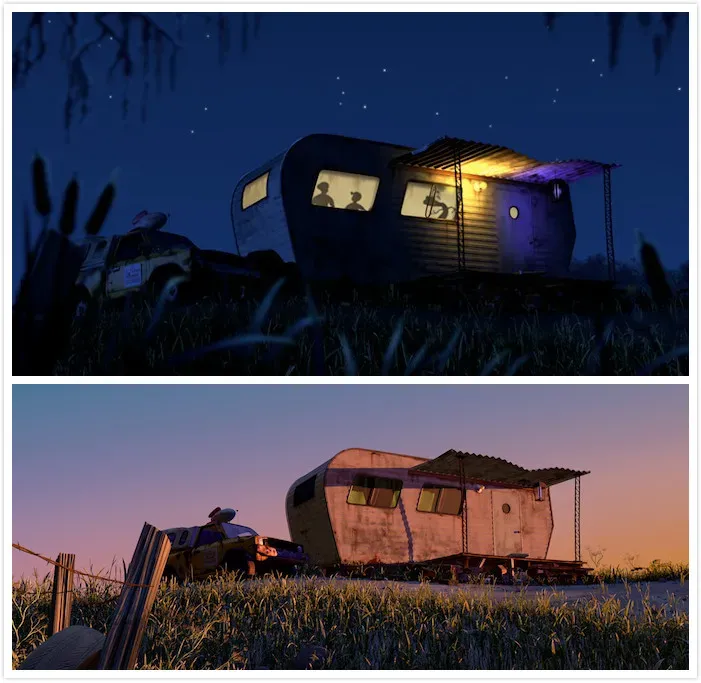 More Fascinating Easter Eggs
In "Cars 2," you can find a racing version of Gusteau's restaurant from "Ratatouille," and the resemblance is striking.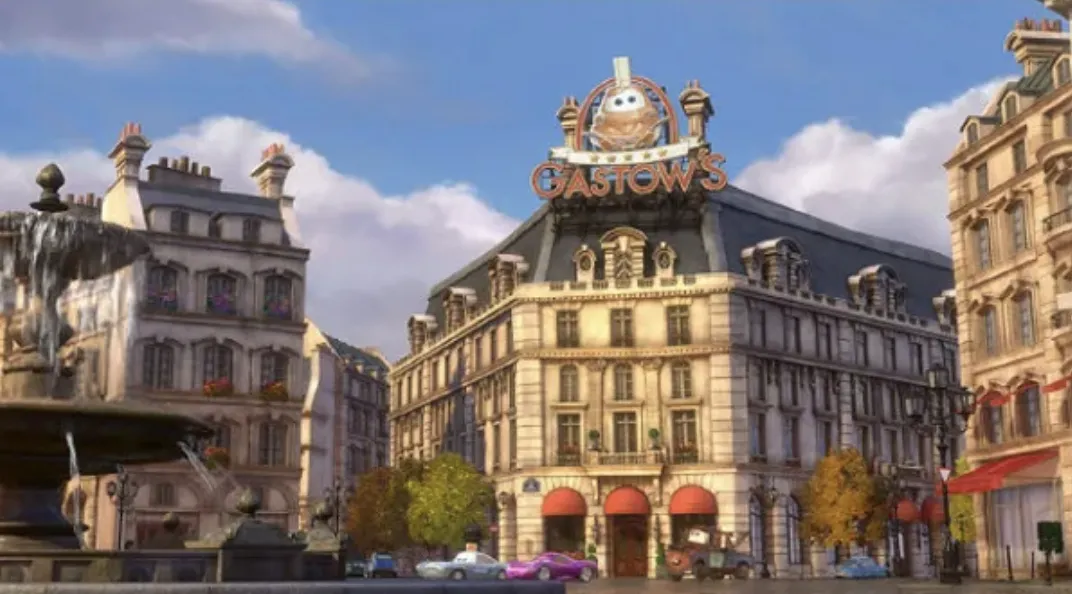 In a scene from "Ratatouille," the silhouette of Dug from "Up" (the dog Carl and Russell encounter at Paradise Falls) briefly flashes on a wall!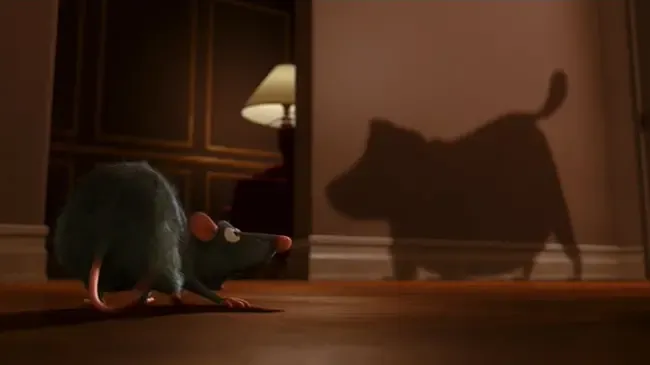 In "Monsters, Inc.," Boo and Sullivan have already met Nemo, who appears two years later in "Finding Nemo." Sullivan is even holding the Luxo ball!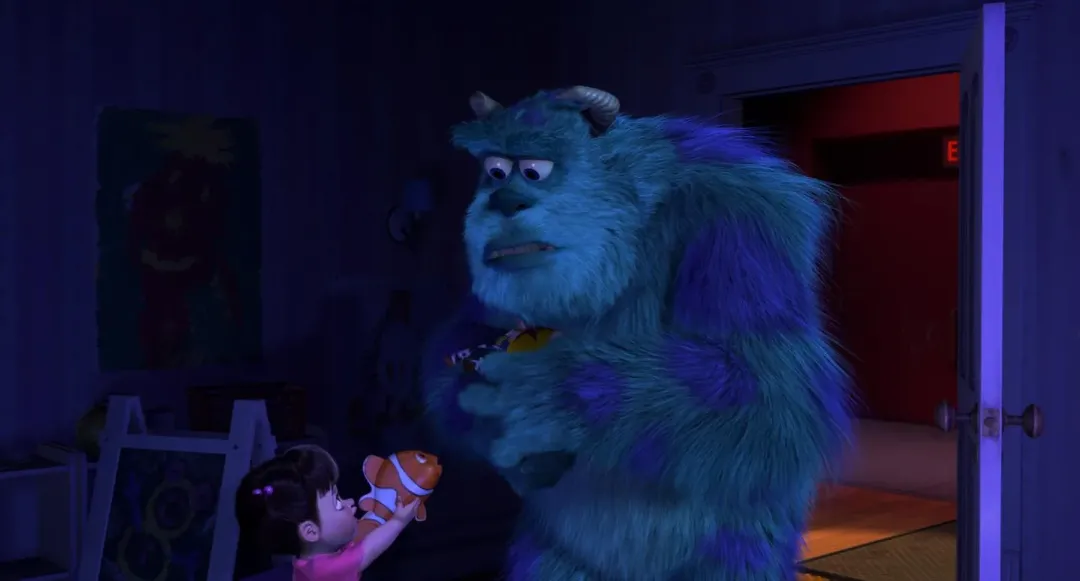 In this scene, you can once again spot Nemo (look closely inside the closet).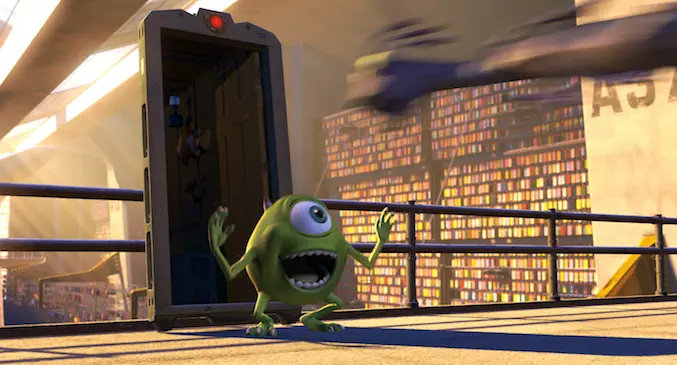 The pink bear in the bottom left corner of "Up" is Lotso from "Toy Story 3"!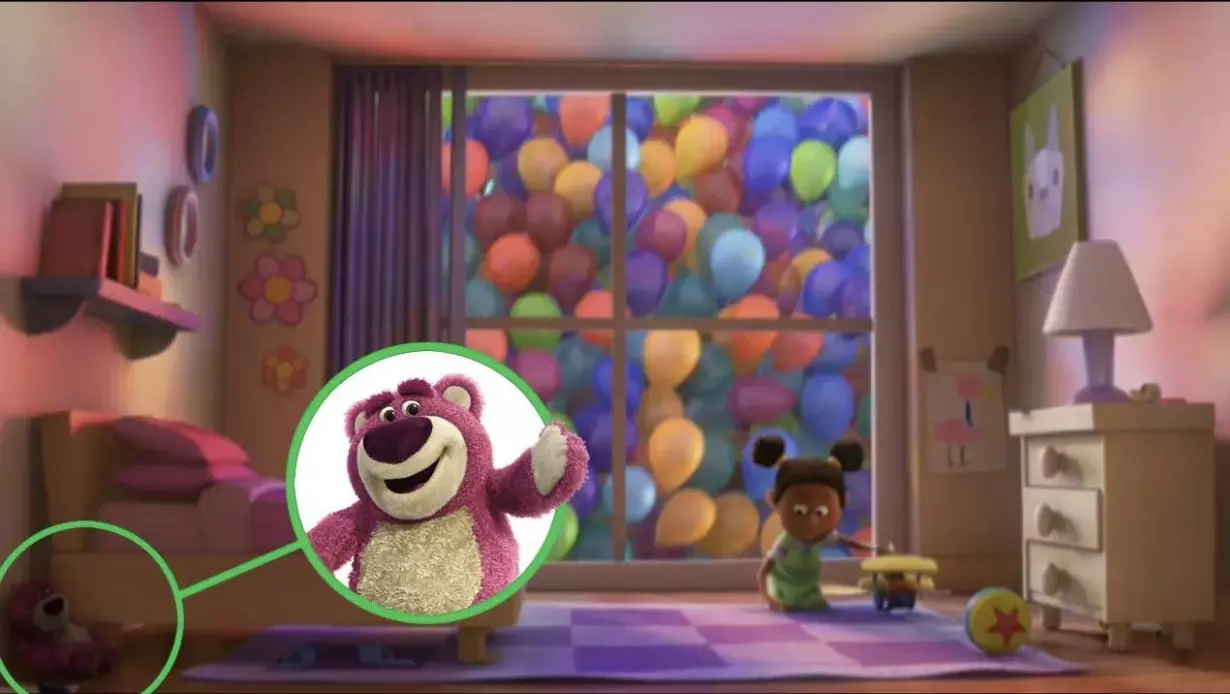 On the bookshelf behind Woody, you can see book titles that are actually Pixar's classic short films, including "The Adventures of André and Wally B.," "Red's Dream," "Luxo Jr.," "Tin Toy," and more.
In "Toy Story 3," the character Totoro, created by Hayao Miyazaki, joins the toy family.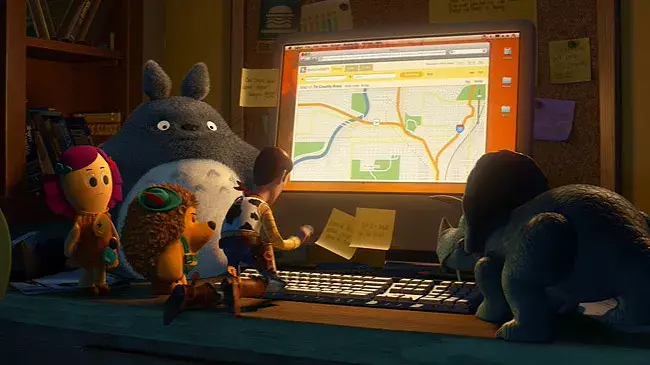 In "Cars 2," the murals on the bar's wall are inspired by Merida and her family from "Brave."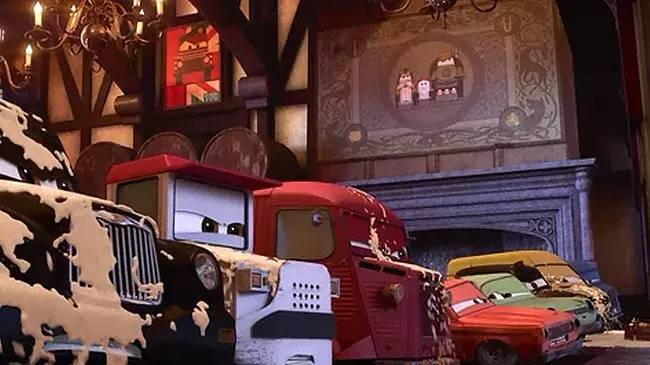 In "WALL-E," Rex from "Toy Story" can be seen hiding between two bowling pins, making a cameo in WALL-E's collection!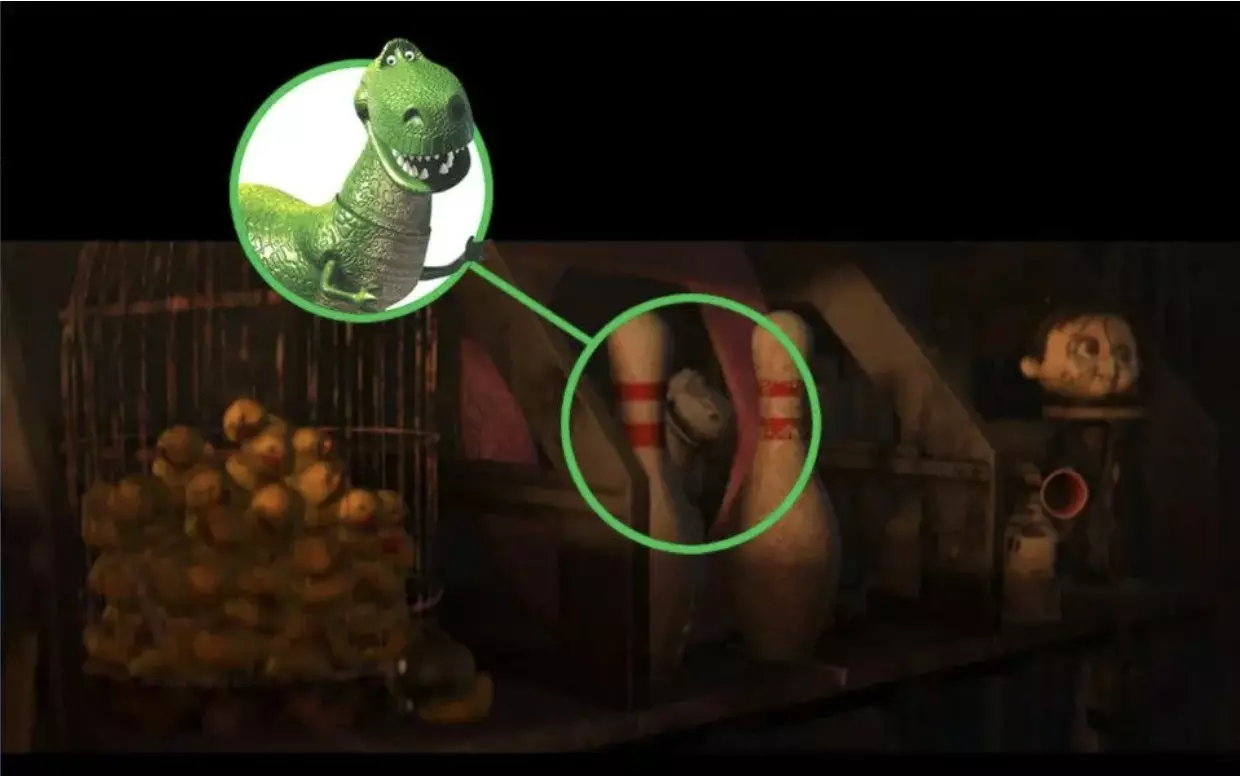 If you have the time to revisit these classic works, remember to keep an eye out for these ubiquitous surprises!